It's simple. The first step is to sign-up for our Free email services and register to become an affiliate. Click on the "Join Now" icon at the bottom of the page. This takes you to the registration form.

Sign-up for a FREE Paypal account. Paypal is the largest online payment system. We use PayPal to send commissions. PayPal is the easiest way to send money to anyone with an email address-even if they don't have a PayPal account. Paypal.com currently has over 4,000,000 registered users.
LIMITED TIME BONUS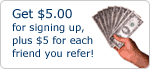 Sign-up for PayPal today, and receive $5.00 just for signing up for their FREE service! (U.S. Residents only.)

Upon confirmation that you've completed the new affiliate sign-up, your name will be listed in the 5th position on the Sponsoring Affiliate chart. As new affiliates join, you will receive $1 dollar for each direct referral through your site, and $1 dollar for each of your sub-affiliate's referrals.
Sponsoring Affiliate Chart